Child Safety Seat Laws Safety Laws in New York
A 2020 research article published by the National Conference of State Legislature reveals that car crashes are the leading cause of death for people between 0 – 25 years. 
Between 2010 and 2014 (the last year's comprehensive reports were compiled), the New York Times reported that an average of 11 children died every week due to motor vehicle accidents. It becomes more inconsolable to know that many of these deaths were preventable. The report revealed that 43% of children that died were without restraints or improperly restrained, while 13% were driven by drunk drivers.
The New York state car seat laws 2020 that recently became law in November were designed to address the trend of child passenger accidents by setting car seat rules for different ages of children. Therefore, whether as a parent or anyone who drives or is likely to drive an automobile, it is important to know child car seat laws in New York. You may also need the help of a lawyer to understand the rules and protocols not only to escape or press for liability but ultimately to prevent the agony of injury to a child.
Child Car Passenger Safety
Child passenger safety requires consistent and appropriate use of correctly installed car seats, booster seats, or seat belts for children regarding their age or size.
Understanding the NYS Car Seat Laws
The car seat laws in New York State require child passengers to be placed in child safety seats and must ride in child restraint systems until their 8th birthday. The NYS car seat laws provide detailed specifications for the installation and use of car seats, booster seats, and other restraint systems for children with respect to their ages, height, and weight.
Why Are Child Car Seat Laws Important in New York?
Child restraint systems, when appropriately used, have proved to be the best savior for children involved in car crashes. A study by the Centre for Disease Control and Prevention (CDC) revealed that the use of car seats reduces infant fatalities in motor vehicle accidents to 71%, 54% for toddlers, and 41% for young children aged between 4 to 8 years.
From the above statistics, it is clear that the use of a child restraint system at all times is more helpful than not. Moreover, the NYS Child Restraint Law is not an optional regulation for parents or drivers carrying child passengers.
What Are the Laws for Child Safety Seats?
Infant/Toddler Car Seat Law, NY (0 – 2 years)
The law requires all infants to ride in a rear-facing car seat until they reach their 2nd birthday or for as long as possible unless they outgrow the weight and height limit of the car seat. In such exceptional cases, an all-in-one or convertible car seat should be used in a rear-facing position till they outgrow the weight and height limit set by the convertible car seat manufacturer.
Forward-Facing Car Seat Law (2 – 4 years)
Children aged between 2 to 4 years and under 40 pounds are required to be secured in a forward-facing car seat in New York State. This car seat can be used as long as possible until the child can fit into a booster seat.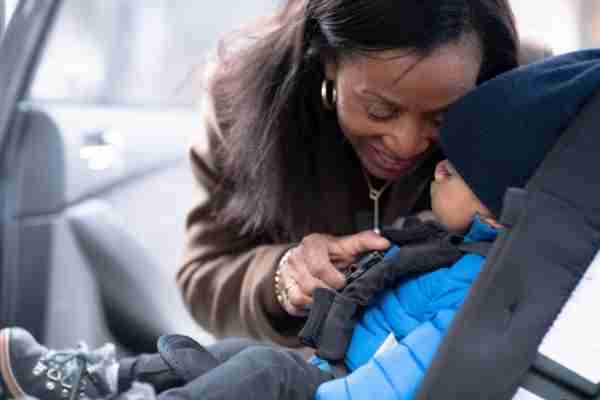 New York State Booster Seat Laws (4 – 8 years)
Children between the ages of 4 to 8 years that weigh between 40 – 80 pounds and are under 4 feet 9 inches of height are required to ride in booster seats. There are different kinds of booster seats: backless booster seats, high back boosters, combination of child safety seat/booster seat. It is important that a booster seat is correctly installed.
In a 2015 study by the National Highway Traffic Safety Administration (NHTSA), it was found that 42% of over 3500 observed cars misused their car and booster seats in a way that increased the risk of injuries to a child involved in a car crash.
Children Below the Age of 13
Children above 8 years but below 13 years are to ride in the back seat until the vehicle's seat belt can properly restrain them. Best practices to know if a child above 8 years can ride with the vehicle's seat belt is to check for these:
Whether the seat belt is firmly placed across the shoulders and runs across the chest. Seat belts should never be placed under the arm or run across the neck
Whether the child's knees fold comfortably at the edge of the seat and the lap belt lays on the thighs
Following these NYS car seat laws would greatly reduce the risk of child injuries in a car crash. However, in the event that your child sustains injuries from a car crash, there may be the need to investigate manufacturing defects in the car or booster seat or negligence on the part of the driver (e.g. failure to properly buckle the child or under the influence of alcohol). In such unfortunate circumstances, it may be necessary to work with a knowledgeable lawyer in the field of child car safety laws in NY to know if you have a claim against the car seat manufacturer or driver.
Again, the value of child car safety cannot be over-emphasized. Between 1975–2012, the NHTSA found that child restraint saved an estimated 10,157 lives of children aged 0–4 years.
If you or a loved one has had a child that sustained injuries from a car crash and you desire to investigate whether you have a claim against the seat manufacturer or driver, you can reach out to our New York child injury lawyers in the Law Offices of Elan Wurtzel for free legal consultation.
Latest Personal Injury Attorney Blog Articles
By Bryan Trugman, CFPⓇ  Reprinted with permission from Bryan Trugman. Visit the Attitude Financial Advisors site. For this article, I have featured an interview with Elan Wurtzel, who is an excellent personal injury attorney and also my business associate and personal...
read more